MCA Home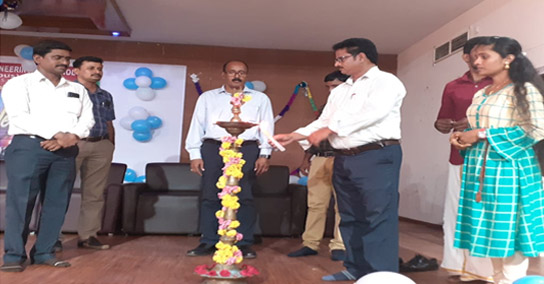 Aiming at nurturing the demand of industry for high quality technical education for Computer specialists, the institute started the three-year MCA Course in 2004 with an intake of 60. Department is equipped with well qualified and experienced faculty who are capable of providing proper technical expertise to its students. The department has good number of Computer Systems with the latest Configuration. The lab operating environments include Novell Netware, Windows XP and LINUX. In addition there is exclusive lab with internet facility.
The department provides excellent technical skills to its students through various technical activities with a mission to promote technical excellence in its students through training in soft skills which covers a variety of industrial requirements.
Vision & Mission
Vision
To promote innovation centric education and perform cutting edge research and training to meet the requirements of industry and society in Master of Computer Application.
Mission
To acquire quality education through well-designed curriculum with the challenging software needs of the industry.
To provide an open environment to the students and faculty that promotes professional and personal growth.
To Facilitate the development of academia-industry collaborations, research and societal outreach programmes.
R18 Regulations & Syllabus
R18 Regulations & Syllabus
R20 Regulations & Syllabus
R20 Regulations & Syllabus
Association(i-Hub)
An Association named "i-Hub" found by the first batch CSE students of ASCET with engineers as its members.i-Hub efforts for the development of different skills in students and there by progressing their personality. It navigates the members to develop an successful IT professionals, create employment opportunities so some social activities like blood donation, public awernce on AIDS.
Professional Body Members(i-Hub)
| S.No | Regd.No | Name of the Student | Desigination |
| --- | --- | --- | --- |
| 1 | 16G21A0540 | G.V.Vikas Babu | President |
| 2 | 17G21A0521 | B.Lokesh | Vice-President |
| 3 | 16G21A05C1 | Sk. Saba Muskan | Secretary |
| 4 | 17G21A0556 | K.Kishore | Joint Secretary |
| 5 | 16G21A0557 | K.Surya Teja | Treasurer |
| 6 | 17G21A05E0 | Y.Venkata Sireesha | Assoc. Treasurer |